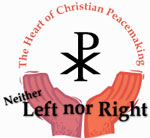 Only two weeks until CPF's March conference, Neither Left Nor Right: the Heart of Christian Peacemaking, where we will talk about the theological roots of the Catholic Peace Fellowship. REGISTER NOW!
We will be joined by Jim Forest and Tom Cornell, the original cofounders of CPF. Also presenting at the conference will be Michael Baxter, CPF national secretary, Joshua Casteel, Iraq War Vet and conscientious objector who will have just returned from the Vatican, and Farah Marie Mokhtareizadeh, an Iranian-American Catholic activist. The cost of the conference is $25. Though we have plenty of floor space, if you prefer to sleep in a bed or on a couch, please register by Monday, March 12th!
The event will be followed by the annual Midwest Catholic Workers' Resistance retreat, held in the same location, during which time we hope to challenge the University of Notre Dame to speak more clearly for the peace that is based on the tradition of the Church and the ancient teaching of the apostles. Our goal is to inform the consciences of those students participating in ROTC by bringing to light the stark contradiction between Catholic teaching and military training, so that these ROTC students will become conscientious objectors to the military.
For registration information and a schedule, click here.